The Funniest Pirate in the World
Making the character
I first had to draw sketches to create the character's look. After multiple tries, I picked one and drew and cut several variations of the selected face on colored paper to create two different facial expressions of the character, one reversed face and two bodies.
After having my character's faces ready I made a test animation to see if it moved decently.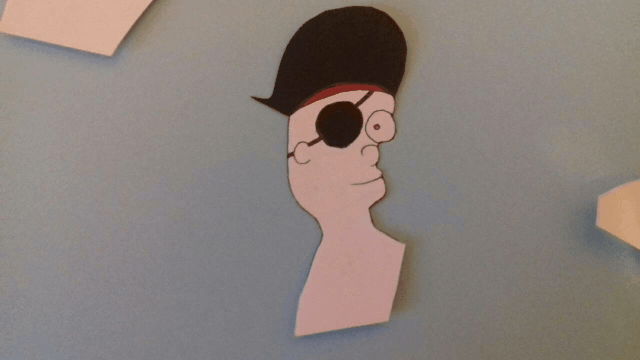 Making the video
Once I had all my paper elements and backgrounds cut, I made an improvised set-up with a hanger and books to put my smartphone on it. Under it was a chair where I put what would be photographed.

I used the app Stop Motion Studio. This process was very time consuming as the whole video required 705 pictures. I took pictures from 11am to 5pm - after 5 the light in my room would change and rays were visible on the pictures. Unfortunately, I couldn't help but want to keep working on the video at night, and I made the scene when the pirate hit the treasure despite the darkness, and it is visible in the lightning and colors of the pictures.

I set the app to take a picture every 5, 10 or 30 seconds depending on the extent of changes needed per frame. From time to time I would be too slow to move elements and my hand would be photographed too. It was interesting to see behind the scenes and see a part of the real world in this fictional colorful world made of paper.

Once I had all my pictures, I started editing the video and I could have a better idea of what sounds exactly would be necessary.
Recording the sound and writing the music
I made or recorded all the sounds and music myself. I recorded birds that I could hear from my window or garden, water sounds were made by throwing a stone in the water or by moving water in the sink with my hand. I made the wind by blowing in a paper tube. I really wanted to be the creater and owner of the whole content.
As for the music, I got the melody from a very brief music I heard in a horror movie I watched when I was making the video. I then made it more complex and with a style that would fit the underwater atmosphere better.
| Sample from the movie: | Music for the video: |
| --- | --- |
| Your browser does not support the audio element. | Your browser does not support the audio element. |
Result
It was a very fun project to keep me busy during the lockdown. I worked on the video for 5 days and despite some flaws (the cut in the background in one scene for example, or the colors in the scene I made at night), I'm glad of the result.